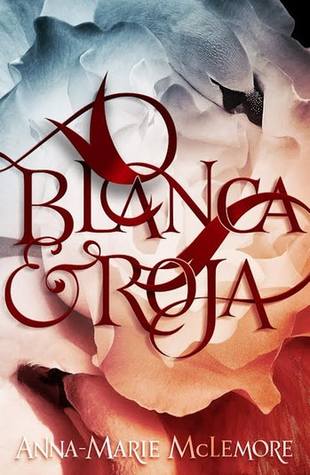 SYNOPSIS:
The biggest lie of all is the story you think you already know.
The del Cisne girls have never just been sisters; they're also rivals, Blanca as obedient and graceful as Roja is vicious and manipulative. They know that, because of a generations-old spell, their family is bound to a bevy of swans deep in the woods. They know that, one day, the swans will pull them into a dangerous game that will leave one of them a girl, and trap the other in the body of a swan.
But when two local boys become drawn into the game, the swans' spell intertwines with the strange and unpredictable magic lacing the woods, and all four of their fates depend on facing truths that could either save or destroy them. Blanca & Roja is the captivating story of sisters, friendship, love, hatred, and the price we pay to protect our hearts.
---
RATING: ☆★☆★☆
McLemore centers Blanca Y Roja on the del Cisne sisters who couldn't have been more different—Blanca, light-skinned and golden-haired, and Roja, darker-skinned and with a heart that gleamed so red it showed in her hair. Blanca and Roja have always lived in a perpetual state of disaster preparedness: sisters in their family were offerings for the swans to choose from, and for many generations, they delighted in taking one of them and leaving the other.
Blanca and Roja's fear of this curse was its own entity, but in the furnace of their terror, their resolve kindled. They would do everything to keep each other safe. Until the señoras sought to snip the thread between them clean in half, offering Blanca to spare herself by earning the love of a blue-eyed bear-prince, Yearling. Yearling was rumored to have been stolen by the woods with his best friend, Page, only to be then given back. To protect themselves from the scolding eyes of the town and Yearling's poisonous family, they hide in the del Cisne house, where the del Cisne sisters are saddled with the decision of who to save and who to sacrifice.
We painted the woods that night. We gave it the colors we were and the colors we borrowed. We were opening our hands. We were giving up the stories we thought we already knew. We were becoming.
Blanca Y Roja casts a cozy spell and is kissing-close to beginning with once-upon-a-time. McLemore weaves in and out of multiple first-person narratives a brilliant reclamation of Snow-White and Rose-Red with a wonderful Latinx feel threaded throughout and mesmerizes once again with a gorgeously supple story at the thresholds of identity, family and history. McLemore writes with an adept heart drawing feeling out of the words, and I wanted nothing more than to dwell in the honey-light of their writing. Theirs are the kind of books you want to take in slowly, to wander through, to spend time in, for you'll likely find yourself the better for it. What's more, there is always the faintest glimmer of familiarity in them, as though you knew the story, but had forgotten it. It's breathtaking.
It is about the sudden understanding that you are something other than what you thought you were, and that what you are is more beautiful than what you once thought you had to be.
There's so much tenderness in this book, ineffable and aching, but with jagged edges too. This is a spellbinding tale of sisterly devotion in a world that searched for sparks of sibling rivalry to fan into a flame for the stage. The way Blanca and Roja sought solace in each other and found it, the way they had hidden in it, obfuscating reality and the fear they were powerless against, filled me with such a seethe of emotions.
I wanted to hold these characters' hands. Each of one of them is embroiled in a struggle for acceptance in a world that fears and distrusts them for who they are. Anyone who has ever been excluded can understand what they felt—anyone who's ever felt heavy and trudging and trapped down here on the surface of the world while everything is slicing at you from the harshest angles.
Roja gives in to the scalding, scarring ache inside her—that fire she'd been born with. She doesn't want to glide through life, unfeeling, so she breaks from the grooves she's worn down inside herself thinking she'd never be anything more than a last resort, a minor player in a drama about her, her story always a mere subplot woven around someone else's.
Blanca for whom people decided a life and made it an immutable truth that will govern her interaction with the world—because they couldn't fathom that a woman is capable of multidimensionality, that she was more than one emotion, one trait, one story, but a million experiences and a million pieces. They held on to a perception of her that was caught in the thorn bush of the past but she broke free and tried on the sleeves and slacks of a new self however she saw fit.
Yearling wasn't a creature of anger or envy, though he grew up surrounded by people who were, and few will ever know the violence it took him to become this gentle and soft-hearted, and how he'd taken the jagged pieces and spliced them into elements that tiled and tessellated and fit themselves back together again. Yearling is also adjusting to his disability, something that McLemore has portrayed with so much attention and genuinity and I am so grateful for it. I honestly love Yearling so much I don't want anyone to touch his golden soul with their soiled hands.
Page is trans and uses both he and she pronouns. His queerness is never forgotten. Being genderqueer is simply who he is, and in those moments when others demanded he be different, Page cannot satisfy them, and be someone he is not. She doesn't owe anything to people who were only committed to misunderstanding her. Page no longer stood there and accepted the weight of the ignorance of those who should've known better and tried harder, and hoped it left them lightened. But Page also learns not to always layer cynicism and distrust upon her life and think it futile to try to alter the pattern when fear had carved so deep a path. And as a queer person myself, I related so much to this: to hardening yourself by choosing to lock out everyone else—the ugliest stripe of self-preservation, born out of disappointment and weariness. It's a lesson I'm still turning over in my head, trying to learn the shape of it.
I also loved both the romantic and platonic relationships in this book—how Yearling and Page's friendship was a blaze of love, how Page & Blanca's, Roja & Yearling's love came softly, enough to hold, not enough to hurt. Everything about them was so tender and heart-shaped that the entire book felt colored by it. But mostly, I love the way they were a testament that, in time of despair, all we can do is reach for each other and hope the edges of our hopelessness dissolves, even just a little.
I think I will always be frustrated by my own inability to express how much I love McLemore's books. How much I love their ability to not only dazzle—but to make you believe, your heart rising to so many possibilities.
My hope for you, reader, for all of us, is two sides of the same wish: that the world gives us each the space to write our own story, and that we leave room for each other's stories. They are where our hearts survive.
If you liked this review please consider leaving me a tip on ko-fi!