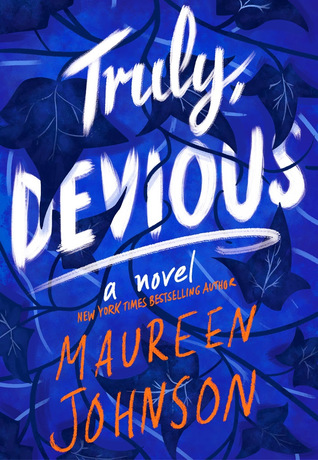 SYNOPSIS:
Ellingham Academy is a famous private school in Vermont for the brightest thinkers, inventors, and artists. It was founded by Albert Ellingham, an early twentieth century tycoon, who wanted to make a wonderful place full of riddles, twisting pathways, and gardens. "A place" he said, "where learning is a game."
Shortly after the school opened, his wife and daughter were kidnapped. The only real clue was a mocking riddle listing methods of murder, signed with the frightening pseudonym, Truly Devious. It became one of the great unsolved crimes of American history.
True-crime aficionado Stevie Bell is set to begin her first year at Ellingham Academy, and she has an ambitious plan: She will solve this cold case. That is, she will solve the case when she gets a grip on her demanding new school life and her housemates: the inventor, the novelist, the actor, the artist, and the jokester. But something strange is happening. Truly Devious makes a surprise return, and death revisits Ellingham Academy. The past has crawled out of its grave. Someone has gotten away with murder.
---
RATING: ☆★☆★
Me: *reads the last page and closes the book with a thump*
Me, in a Buzzfeed Unsolved voice: with that in mind, let's get into the THEORIES.
First of all, if I think about it hard enough, my physical form isn't even an objective fact of the universe and if I want the sequel to this book right now, I should have it.
Second of all, I still don't have the barest idea of who did it….but I suspect aliens were involved.
So, what's this book about?
At Ellingham Academy, Stephanie "Stevie" Bell finds at last a scope to equal her abilities. Stevie is fascinated by crime and tends to throw herself at locked doors even when she's sure they will never open. And there isn't a more notorious locked door than the decades-old kidnapping and apparent murder of school founder and industrialist tycoon Albert Ellingham's wife and daughter—a crime that exhaled enigma for years because of a malicious poem modeled in the style of Dorothy Parker that was signed "Truly, Devious" and sent to Mr. Ellingham. Stevie is all nerves and fascination and unabashedness and a deep, stirring hope: that, in Ellingham, she would be herself, apart from the watchful eyes of her conservative parents, and that she might solve the "Truly, Devious" crime and put the last specter of the past where it belongs.
But while Stevie was exploring the school, mining for answers, tragedy strikes in the form of the murder of one of her housemates. Stevie is churned under by an overwhelming dread as her new reality sinks in: Truly Devious is back. Now, attending Ellingham Academy is starting to feel less like an opportunity and more as though Stevie's life had chased her down a dead-end corridor and trapped her there to taunt her.
Schools may be famous for many things: academics, graduates, sports teams. They are not supposed to be famous for murders.
Flipping the last page of this book felt like waking up and feeling the last tendrils of a dream melting away and leaving you there, in your bed, alone, stranded in the merciless intransigence of reality. I picked it up with no expectation at all, and it was like an unsuspected vault of delight spilling open. I couldn't put it down. "Just one more chapter" became my mantra and the later at night it got, the further into another world I went.
Truly Devious begins, as so many good stories do, with a murder. Then, it dives into a tightly engineered plot that zips along in short chapters entwining two different timelines—between 1936 and the present day. The author paces her twists very well and keeps you riveted with a slow-drip revelation of the real mindsets and motivations of her key characters. This is not the kind of novel where the author sets up the basic points of the plot early on, rather, Johnson turns up the heat so gradually that you don't notice the water is boiling until it is too late. It's the kind of novel that drives you into doubt, that keeps you wondering and fretting, stumbling behind its dancing feet. There's an awful presentiment throughout the book that the pall of doom of the past had been leading to this moment. You know you're missing crucial pieces of the puzzle and you're trying to hold every word tight in your head, sifting it for meaning, but the book, ever so stubbornly, refuses to turn over its pockets for you. You keep reading, not because you want to reach the end, but because this book is just such a pleasure to read.
The author deepens every delight with her engaging characters and the relationships between them occupy the bristling center. I loved Stevie. She is prone to trouble and any challenge, she would run to meet it. She is determined to solve the mystery and she spoke each word as if it were a stone she built her plans with. Her morbid fascination with crime is also so relatable (my hobbies include watching crime documentaries for an unhealthy amount of time and regretting it at night). Stevie also suffers from anxiety and is often plagued with panic attacks and that part was depicted so vividly that it felt so real.
But this world wouldn't be as fascinating if it was just Stevie soaking up the spotlight. Aside from her, we meet Stevie's genius friend Janelle who's black and a lesbian and her girlfriend uses they/them pronouns, Nate who's perpetually grumpy, has zero communication skills, is uncomfortable in every social situation, wears a shirt that says "IF YOU CAN READ THIS SHIRT, YOU ARE TOO CLOSE" and is therefore my spiritual animal, David who's on that point on the spectrum of personality where "douchebag" becomes "nice guy" or "nice guy" becomes "douchebag" and I still don't know how to feel about him, Hayes who's a Youtube star with an online show about zombies and an unremarkably unpleasant attitude, and Ellie who seems like a cool person to hang out with but only for two hours at a time, otherwise you'll probably end up being talked into committing a felony. Secondary characters include a Hijabi Muslim girl and a girl in a wheelchair and the casual diversity warmed the cold hollows of my heart.
Overall, with a strong denouement and a deftly laid out ending that should segue well into the next installment, the author sets up the foundation for a very exciting sequel and I can't wait!