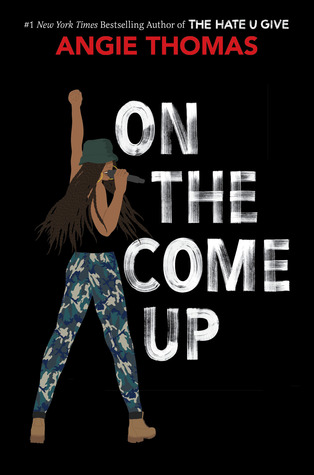 SYNOPSIS:
Sixteen-year-old Bri wants to be one of the greatest rappers of all time. Or at least make it out of her neighborhood one day. As the daughter of an underground rap legend who died before he hit big, Bri's got big shoes to fill. But now that her mom has unexpectedly lost her job, food banks and shutoff notices are as much a part of Bri's life as beats and rhymes. With bills piling up and homelessness staring her family down, Bri no longer just wants to make it—she has to make it.
On the Come Up is Angie Thomas's homage to hip-hop, the art that sparked her passion for storytelling and continues to inspire her to this day. It is the story of fighting for your dreams, even as the odds are stacked against you; of the struggle to become who you are and not who everyone expects you to be; and of the desperate realities of poor and working-class black families.
---
RATING: ☆★☆★☆
It's Angie Thomas' world and she's just allowing us to live in it.
You know when you finish reading a book and there's a moment that feels so remarkable it carves out a space in time and whirls there while the world rushes on around it? In that gap where your real storyline seems very abstract and you're left with such a warm and happy feeling that you're glowing just by being around the book's energy?
That was me upon finishing this book. I'm still overwhelmed by the zing of feeling in my heart and I think reading Angie Thomas' books should be honestly classified as an official human emotion.
So, what's this book about?
16-year-old Brianna "Bri" Jackson has channeled all her yearning into one fervent dream: to reach rap stardom. She believes in it with as much certainty as a heart can hold.
Bri's memory of her late father—a legendary underground rapper who was shot dead by a rival gang when Bri was 12 years old—has always been like shadows flitting at the corner of her eye, but Bri's dream always brought his ghost to stand beside her. Bri held that hope in a desperate grip as her widowed mother, a drug addict eight years clean, ekes out a living on a church secretary salary, and her older brother drudges in a minimum-wage job after years of toil for his college degree. It's what sustained Bri through the phases of dark, until the return to light. A career in rap could turn the tide of her family's life. There would be no more gray sift of days where they had to choose between electricity and gas, no more diligent waiting for the dreary future to trickle forth.
Bri is also one of the few black students who attend an arts school. Following an incident where she is violently targeted by a security guard, determination burns out Bri's gathering hurt and lyrics burns bright as tinder in her mind, illuminating the dark corners. Bri speaks of her growing frustration with being discriminated against for being black, of her incontinent ambition, of her family's grinding financial situation and how her chest is weary from carrying all this repeated hope and disappointment, and the words expanded until they blotted out all else.
Bri's song soon goes viral and it was like flying into a tornado. The public wrings out real meaning from her lyrics and assigns it their own. They brand Bri a dangerous, angry black girl and a "hoodlum"—a word like a wall and Bri runs against it and can go no further. Bri's disgrace is encouragement, lowering her enough that everyone dares to reach up, including her father's sleazy old manager who insists Bri caters to the false image they painted of her in order to make more money. "You know what white kids in the suburbs love? Listening to shit that scares their parents," he tells her. "You scare the hell outta their folks, they'll flock to you like birds."
But Bri's strength and resolution run deep. The trek is arduous but the world's wonders are unrolled like a rug before her, and the future is hers for the taking.
Gift. One word, one syllable. I don't know if it rhymes with anything because it's a word I never thought could be used when it comes to me.
Don't let the charming exterior dupe you—step into this book and it will step into you.
On the Come Up is the kind of story that drags you down so deep that you're underneath thought, engulfed in a place of pure feeling. It's a powerful tale—by turns tender and attentive, unyielding and sharp. It made me laugh. It made me crushingly sad. It made me feel like something was growing inside me, like the words were sinking into me and expanding in my chest and it all wanted to spill out in waves of music and silver light.
Angie Thomas rolls up her sleeves and tackles Bri's story with heady mirth. On the Come Up glitters with life, and its conversational, yet profound tone is warm and magnetic when it isn't quietly devastating, and raw as a wound.
There's a prodigious sense of hard, spare wanting in this book that fairly leaps off the page. Bri's passion is a welter of flame. Just as she is unstoppable and relentless for the ones she loves, she embodies that with her love for rap. She spoke her dream and promptly sealed into the world and woe betide anyone who stands in her way. Her lyrics dug at my bones and made chills shiver across my skin. I absolutely loved Bri's character. Angie keeps her struggles energized and absorbing that you can almost feel it in your blood as well: that iron weight Bri had borne so long, that certain recklessness of temper, nourished by the rough world in which she found herself, which had burst thrillingly to steely determination. It was equally harrowing and thrilling to know that Bri was standing at the precipice of something new and it felt like a gift and a privilege to embark with her on this sublime campaign of life-perfecting.
"So, who are you?"
"What?"
"Who are you?" she repeats. "Of the millions and billions of people in the world, you're the only person who can answer that. Not people online or at your school. I can't even answer that. I can say who I think you are." She cups my cheek. "And I think you're brilliant, talented, courageous, beautiful. You're my miracle. But you're the only one who can say who you are with authority. So, who are you?"
But even more than that, the novel's strength lies in how it succeeds in being both a delightful romp through teenagedom, packed with charisma, firecracker dialogue and well-crafted characters, while also being a bold and illuminating commentary on racism, prejudice, double standards and homophobia. It's a difficult feat that marks Angie Thomas as a remarkable author to keep your eyes on. On the Come up is set in the same universe as The Hate U Give and the memory of THUG's tragic events are emblazoned on this book's pages. Although Starr's and Bri's lives could not be any more disparate, the book highlights how discrimination and racism touches them with the same hand, and how it is a constant feature in the lives of the American black community no matter what their socio-economic standing is. I'm excited to see the conversations this book evokes!
But On the Come Up isn't all grim. The novel loosens the chokehold of anger and frustration on the reader's soul by making space for moments of comfort and vicarious happiness. It's imbued with hope like a small, mad flame flaring in a dark place as the characters learn to lift their arms to hold up their world. I loved Bri's friendship with Sonny and Malik, and how, despite the occasional quarrel and misunderstanding, they were always supportive of each other. The current of love and hurt and dwindling resentments flowing between Bri and her family also struck me with a deep poignancy.
But what sang to me the most is the message that's wedged deep inside the novel's heart: Your voice matters. You don't have to bend in order to fit the world's mold. You don't have to omit pieces of yourself to ensure someone else's comfort. You don't have to stifle your opinion. You don't have to back-pedal and soften it up to cater to someone else's measure. Be wonderfully passionate about what's right. You will draw hatred and animosity no matter what you do, so you might as well make a stand and make it count for something.
You'll never silence me and you'll never kill my dream, Just recognize when you say brilliant that you're also saying Bri.
On the Come Up is equal parts heartrending, insightful, and charming, and as long as Angie Thomas continues to work her marvelous magic, she'll always have a reader in me!