me: no fear
*remembers it's over halfway through 2019 and I'm still a long way from reading all the books I want to read this year*
me: one fear *cue all panic and no disco*
It feels like January was four years ago, March lasted a week and June has completely disengaged from linear time. The last time I did a book tag was maybe….let's see…three eternities and a half ago? Saying it was long overdue would be something of an understatement. I've actually been meaning to do this a month ago but at this point, I procrastinate so much that if I were a vampire, I'd put off getting shit done for CENTURIES. Hell, at this rate, I'll probably put off death and never die!
Alright, so without further ado, let's get into the questions!
1. Best Book You've Read So Far in 2019?
[*static noises*]
I swear my brain just speedrun through the seven stages of grief in the span of like, 5 seconds and I literally forgot every single book that I've ever read. That said, one name leaps forward to claim the title and it's:
The Winter of the Witch (Winternight Trilogy #3) by Katherine Arden
Through three books and years upon years of magic and family and growth, this story has burrowed into my heart and wormed into my consciousness, refusing to surrender its place. All I can think about is how lucky we are to have this series in the world. If there's any series, at all, that you would pick up upon my recommendation, let it be this one. Just trust me.
2. Best Sequel You've Read So Far in 2019?
The Vanishing Stair (Truly Devious #2) by Maureen Johnson
Oh, this was good. This series as a whole is really good. I mean, come one. Murder? Mystery? An elite academy? A bunch of idiots with zero self-preservation? GAYS? DO NOT MISS THESE BOOKS!
3. New Release You Haven't Read Yet, But Want To?
King of Fools (The Shadow Game #2) by Amanda Foody
zzz
<⌒/ヽ-、___
/<_/____/
 ̄ ̄ ̄ ̄ ̄ ̄ ̄
∧_∧ did someone say…
( ・ω・) GIRL GANG ??
_| ⊃/(___
/ └-(____/
 ̄ ̄ ̄ ̄ ̄ ̄ ̄
4. Most Anticipated Release For Second Half of 2019?
The Starless Sea by Erin Morgenstern
A LOVE STORY SET IN A SECRET UNDERGROUND WORLD. BY THE AUTHOR OF THE NIGHT CIRCUS.
I wish I was as dedicated to my college assignments as I was trying to get an ARC of this book…which I successfully did, by the way. I'm pretty sure Doubleday just got tired of hearing from me and were like, "god. someone give her a fucking arc and pray we never publish a book she's remotely interested in jesus fucking christ." Anyway, shout out to Doubleday!
5. Biggest Disappointment?
We Hunt the Flame by Hafsah Faizal
There are some things you just never really get over. Like your first broken heart. Or when Netflix canceled ODAAT. Or when one of your most anticipated releases of 2019 doesn't live up to your expectations. I don't even want to talk about it.
6. Biggest Surprise?
 A Gentleman in Moscow by Amor Towles
I can't remember why I picked up this book but I've no doubt that it will reside, for many many years, in the low-lit boudoir of my memories. I am already looking forward to reading it again. It's best you venture into this experience knowing very little about this book. You won't be disappointed!
7. Favourite New Author?
Robert Jackson Bennett, author of Foundryside (Founders #1)
*reads a heist book* nice
*reads a heist book with flawlessly executed worldbuilding, a wonderfully diverse cast of characters (the two main characters are black), expertly written character development, and a burgeoning sapphic romance* N I C E
8. Newest Fictional Crush?
Hilo from Jade City by Fonda Lee
Me, normally: the concept of a male character who treats everyone around him like shit, except a selected few, and who secretly has a heart of gold is tired. I'm bored. I feel like yawning. I'm already yawnin-
Hilo, making a first entrance: hi I'm an asshole
Me, stretched out in front of him with a rose in my mouth: I would die for you
9. Newest Favourite Character?
Kitay from The Dragon Republic by R. F. Kuang
It's safe to assume that, at any given moment, at least 30% of my brain capacity is perpetually dedicated to worrying about the wellbeing of this idiot. It's funny because when he is reintroduced in this book (which is the sequel to The Poppy War), I had a moment of "oh I totally forgot this character exists oops." Not even halfway through, however, and I've already whipped out the adoption papers, ready to go full on Mother Hulk on the first person who dares hurt him (there are A LOT who do…Kuang, for some reason, is aggravated by the concept of happiness.)
10. Book That Made You Cry?
Like a Love Story by Abdi Nazemian
Like a Love Story is an unspeakably tender-hearted (but sharp-edged) love letter to queerness, to activism, to self-expression, to the people who love despite scorn and condemnation and the war they waged to simply make lives with the people they loved, and yes, to Madonna.
I didn't stand a chance.
11. Book That Made You Happy?
I was just thinking how books are one of the few things that make me the closest thing to happy, and my lizard brain went, "isn't it funny that a tree, which took more than 20 years to grow, had to get chopped up in order for you to feel a sliver of joy? isn't that just HILARIOUS?" Yeah…Sometimes, I don't think my brain realizes that we're on the same team.
BUT ANYWAY! Here are not ONE but THREE books which made me forget, for the space of a few hundred pages, the absolute cataclysmic experience of being alive!
Red, White & Royal Blue by Casey McQuiston
The Unhoneymooners by Christina Lauren
Jack of Hearts (and Other Parts) by Lev A.C. Rosen
12. Favourite Book To Movie Adaptation You Saw This Year?
I JUST BLACKED OUT. I DON'T KNOW. WHO HAS THE TIME TO SIT DOWN FOR TWO HOURS AND WATCH A MOVIE WHEN YOU CAN JUST WATCH A BUNCH OF TRAILES FROM 2005 ON YOUTUBE WHILE BEING MOSTLY ON YOUR PHONE.
13. Favourite Review You've Written This Year?
I have a lot of feelings about this book and not nearly enough wine to express them. Luckily, I had more than enough characters to press them down, hard, against the page. It took me two days to do it, and I dare say I'm really proud of the result. I only hope I did this book justice.
Dig by A.S. King
14. Most Beautiful Book You Bought So Far This Year?
Can I just take a moment to stress the fact that I love this new trend of pretty girls on the cover with my entire heart? I barely have any money but my gay ass is sure not afraid to spend it!
With the Fire on High by Elizabeth Acevedo
Sorcery of Thorns by Margaret Rogerson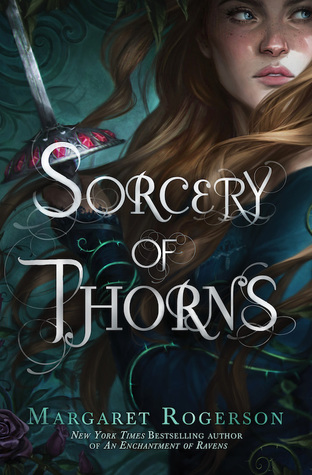 15. What Books Do You Need To Read By The End of The Year?
*cracks knuckles*
Girls of Storm and Shadow(Girls of Paper and Fire, #2)
The Ten Thousand Doors of January
Gideon the Ninth (The Ninth House, #1)
Jade War (The Green Bone Saga #2) 
---
This was really fun! Tell me about all YOUR favs!