Book by a favorite author: *has no title, no synopsis, no cover, no release date*
Me, immediately:
I feel like we all have that small group of favorite authors who are the equivalent of King Arthur's Round Table and whenever they release a new book, it becomes an absolute priority to read it. I have so many authors on my Auto-Buy list (mostly because I never really need a reason to buy books), so it was excrutiating to limit this list to ten authors but I did! (mostly)
So without further ado, here are my Top Ten Auto-Buy Authors!
Anna Marie-McLemore
author of When the Moon was Ours
McLemore's books always read like centuries-old fairytales that villagers with restless imagination would spin around a fire. I have a wild suspicion that she resides on a separate plane of existence and only decides to every now and then visit our realm to bless us with her presence and books, only to immediately retreat into the moors of her homelands to dance with the Old Gods. I'm always all too happy to ignore the less poetic reality of the outside world and lose myself to her stories. And I've no doubt you will too.
Katherine Arden
author of The Bear and the Nightingale 
I am unabashedly in love with this series. Katherine Arden had me hooked, line and sinker. My heart filled with the remembered joy of giving yourself up to a book, the equivalent of a whispered "oh," husky and astonished and awakened. The first book prodded at the edges of my mind, but it was the last two that climbed inside, turned several circles, and settled in with a grunt. Arden's storytelling is so unique and so masterful I want her to rewrite all my textbooks. Trust me, you do not wanna miss this series!
Naomi Novik
author of Spinning Silver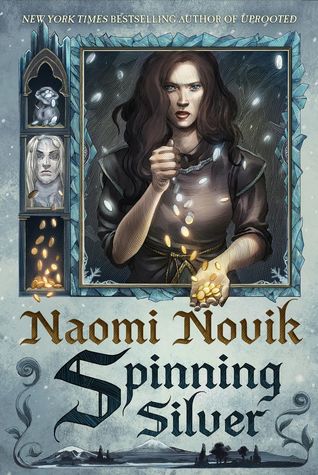 I love Novik's books—the kind of love that is peculiar to inhabiting the perspective of young women with agency and the relationships they form when relying on each other. Her characters are always so delightfully multidimentional. They are brave and strong and terribly flawed, and they—even more strikingly—embrace those qualities in themselves and each other. I would read any book she publishes for more of these connections!
Laini Taylor
author of Strange the Dreamer
This series holds more wonder and beauty than most places in the world. It's as if the universe decided that it was tired of being so immense, so it compressed all of its complexity and splendor into a smaller form just so it could make everyone around it feel like they were a part of the stars. I love it vastly and I'm so glad it exists. I also need Laini Taylor to write at least three spin-off series because the sheer potential of everything left unexplored in this world is earth-shattering.
Adam Silvera
author of They Both Die at the End
Me, feeling self-destructive: let's pick up an Adam Silvera book!
I don't know what the concept of happiness has done to Silvera or why he seems so aggravated by it…but I have eyes and I'm not afraid to CRY.
V. E. Schwab
author of Vicious
Schwab's books hold a very dear spot in my heart—not only because they are exquisitely dark, meticulously plotted with flawlessly executed character development and unforgettable characters, but also because, on a personal note, I've met my best friend through them. So, yeah. I'm a sentimental asshole. A sappy motherfucker, if you will.
Leigh Bardugo
author of Six of Crows
I need Leigh Bardugo to just swoop in and write my life for the next twenty years. That's it. That's the whole statement.
Angie Thomas
author of The Hate U Give
It's Angie Thomas' world and she's just allowing us to live in it.
Reading Angie Thomas' books should be classified as an official human emotion. Like, you know when you finish reading a book and there's a moment that feels so remarkable it carves out a space in time and whirls there while the world rushes on around it? In that gap where your real storyline seems very abstract and you're left with such a warm and happy feeling that you're glowing just by being around the book's energy? That's how I feel reading her books.
Blake Crouch
author of Dark Matter
me: *finishes reading any book by Blake Crouch*
me: what the fuck…..
me: [at dinner] what the fuck…
me: [trying to sleep] what the fuck….
me: [in the bathroom] what the fuck….
me: [breathing] w hAt THe F uCK
K. Ancrum
author of The Wicker King
The words "by K. Ancrum " give me a better dopamine rush than hard drugs ever will. Kayla is writing a queer Peter Pan retelling which according to them will include (and I quote) 1. Bi tinkerbelle BI TINKERBELLE 2. "Nick and Norah's Infinite Police Procedural" 3. Crime 4. Drag Queens 5. Chicago's Public Transit System 6. Kayla's Signature™ Comedic Stylings. And will definitely NOT include: 1. Unchallenged Romanticization of Peter w/ no consequences for his Behaviour. 2. Anti-Indigenous Racism. You know what I'm talking about. 3. Girls Competing for Peter's Romantic Attention. (we are done with that, ladies).
TAKE. MY. MONEY.
Madeline Miller
author of Circe
I need Miss Madeline Miller to do that thing where she writes the perspective of myth's most reviled women like she did with Circe but with every single woman in Greek Mythology. I'M ON MY KNEES.
---
Tell me all about YOUR auto-buy authors! Any that you see on this list 👀?