Hi hello, friends!
Graphicathon is a week-long readathon that I'm co-hosting with Katie @ohhitheryon and Alex @alex_abe_ and which takes place from November 1-7. This readathon is all about devoting yourself to reading graphic novels and Webcomics. It's an opportunity to celebrate the incredibly talented creators who combine visual delights with impressive storytelling to fire the imaginations of readers the world over, and give their work the attention it deserves!
Graphicathon has specific challenges to aim for (like reading a graphic novel with your favorite color as the cover, or from your favorite genre, or one that has a one-word title, etc). For this end, I assembled a list of 30 Webcomics readily available online to spur you on! The following recommendations either firmly belong to the romance genre, or simply have a romantic subplot, but can fall under any of the prompts.
Listen… the world is falling down around us, and I just [clutches fist] really like reading about people falling in love! Accessing love via fiction! Being transported into love tales by means of osmosis and all that! So whether you're keen to read about heirs and duelist bodyguards, cursed princes and secret witches, sweet-tempered necromancers and 17th century astronomers, wandering girls and sharp-tongued mermaids, or high-schoolers simply navigating the calamitous experience of being young and in love, I hope you find something to love in this list!
P.S. Click on the title to access the Webcomic online!
✴✴✴✴✴✴✴
➸ Always Human by walkingnorth
Status: Completed
Synopsis: This is a story about nanobots, genetic engineering, and two girls falling in love. No matter how technology changes us, we'll always be human.
➸ Path to You by Sinran
Status: Completed
Synopsis: When almost college dropout Jensen attempts to drink away his problems, unemployed Nathaniel suddenly pukes on him and ruins his night. As an apology, Nathaniel offers to help Jensen with his studies. Despite Jensen's difficulties in getting along with people, the two become friends and something deeper begins to grow between them…
➸ I Love Yoo by quimchee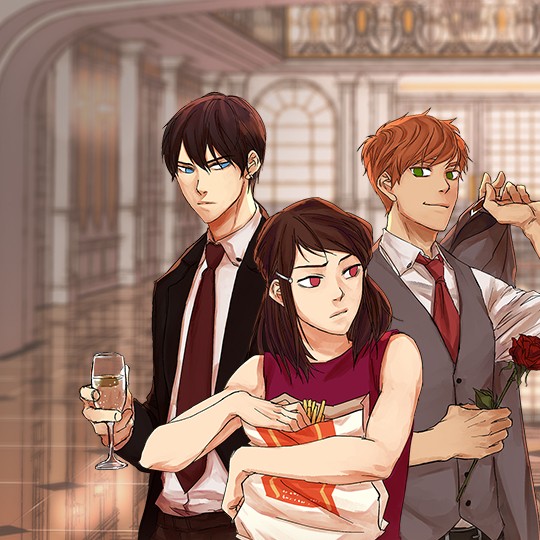 Status: Updates Every Friday
Synopsis: Dogged by pain and misfortune from the very beginning, Shin-Ae decides she wants nothing to do with people nor anything to do with romance. Although content with her unsocial, boring, loveless existence, her lifestyle is challenged after she ruins an unsuspecting strangers' clothes.
➸ Tripping Over You by Owen White
Status: Updates twice a week, on Mondays and Fridays
Synopsis: Growing up is an awkward waltz. Tripping Over You follows Milo and Liam's steps (and missteps) as they begin a hesitant relationship in their last year of highschool. They must learn to fold each other into their lives (in the midst of major life changes) with as much grace as they both can manage — which, admittedly, could be enormously more graceful. They stumble over each others' feet while trial-and-error learning what it means to provide each other with a center point of balance.
➸ Long Exposure by Kam "Mars" Heyward
Status: Complete
Synopsis: Long Exposure is an ongoing webcomic about a nerd and a bully who are forced to work on a class project together. The story revolves around them developing super powers after an incident at a strange research center, and finding themselves followed by a mysterious car, overcoming personal challenges, and (most importantly) discovering how gay they are for each other.
P.S. I dislike bully/victim romances with a Casanovian passion, but a friend of mine who had read this comic assured me that this trope is deftly subverted in this story and I trust them!
➸ On a Sunbeam by Tillie Walden
Status: Complete
Synopsis: Throughout the deepest reaches of space, a crew rebuilds beautiful and broken-down structures, painstakingly putting the past together. As new member Mia gets to know her team, the story flashes back to her pivotal year in boarding school, where she fell in love with a mysterious new student. Soon, though, Mia reveals her true purpose for joining their ship—to track down her long-lost love.
➸ Check, Please! Book 1: # Hockey by Ngozi Ukazu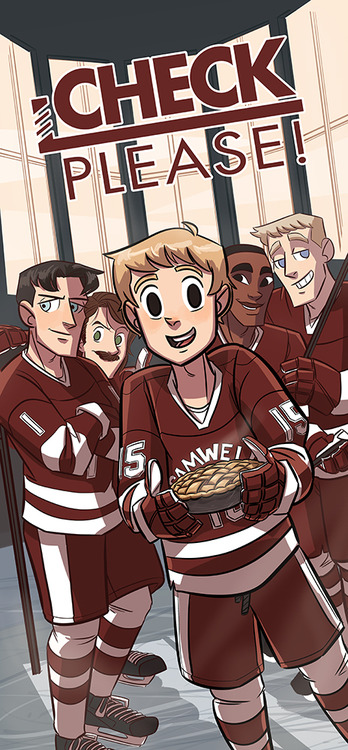 Status: Book 1 complete
Synopsis: Eric Bittle—former Georgia junior figure skating champion, vlogger extraordinaire, and amateur pâtissier—is starting his freshman year playing hockey at the prestigious Samwell University in Samwell, Massachusetts. And it's basically nothing like co-ed club hockey back in the South. For one? There's checking. It's a story about hockey and friendship and bros and trying to find yourself during the best 4 years of your life."
➸ Heir's Game by suspu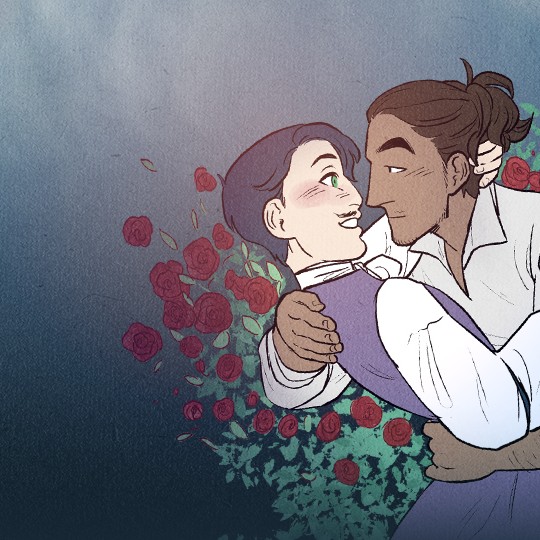 Status: Every Monday
Synopsis: When a new heir to the duchy of Belluna comes of age, there is held the Heir's Game: a brutal series of duels to determine the heir's bodyguard. When Theuden, the new heir, meets Isran, a quiet duelist with a mysterious past, their love will threaten to change everything.
Status: Completed
Synopsis: A cursed prince must rely on a witch to free him from an enchantment. But witchcraft is banned, and the two young men have little in common. As love blossoms between them, can they overcome their own prejudices, save their nation, and find a cure… before it's too late? Dissent is a BL fantasy webcomic, featuring a POC demi/pan witch, a prince who favors men, and a supporting cast of LGBTQ+ and diverse characters.
➸ Brimstone and Roses by Mei Rothschild
Status: Every Friday
Synopsis: Bea is over her ex. Absolutely, completely, over her… except that she's not. When Bea finds out that her ex is also attending her sister's wedding, Bea does what any logical person would do and summons an incredibly hot, sarcastic demon to be her date. But demons are tricky, and now hers won't leave her alone.
➸ Always Raining Here by Hazel and Bell
Status: V1&2 Available Here
Synopsis: Adrian is heartsick, Carter is horny. This is a story about their misadventures as awkward teenagers as they fumble through unrequited romances.
➸ Prince & Knight by Tsuyonpu
Status: Updates every Monday 6PM UTC +2
Synopsis: After 5 years the Prince finally settled to now officially conclude his title as the heir to the throne and Prince of the Kingdom. The reason for the wait being different to what some might expect.
➸ My Giant Nerd Boyfriend by fishball
Status: Updates every Monday, Wednesday, and Friday
Synopsis: Having a boyfriend who's a full foot taller than you might seem adorable at first, but it usually just ends up causing a whole bunch of minor inconveniences. Follow Fishball as she navigates the Malaysian life with her 6'5″ geeky boyfriend.
➸ Castle Swimmer by Wendy Lian Martin
Status: Every Sunday
Synopsis: What happens when your entire life is ruled by a prophecy – your future foretold by people you've never met, who died long before you were born. Such is the story of two young sea creatures. One believed to be a guiding light for his people, a Beacon who will lead them to a bright, prosperous future. The other is a teenage prince for who's destiny is to KILL the Beacon so that HIS own people might thrive. When both reject the course set for them, it leads to a raucous adventure as big and unpredictable as the ocean itself – and a romance that nobody could have predicted.
➸ Gourmet Hound by Leehama
Status: Completed
Synopsis: Lucy, a woman with an uncanny sense of taste and smell, discovers that her favorite restaurant has changed kitchen staff–and she does not know the identity of the chef whose cooking she's loved for years. When a lucky accident leads her to two former chefs at Dimanche, she decides that she will do her utmost to track down each of their old colleagues in order to rediscover that "perfect taste".
➸ Lore Olympus by Rachel Smythe
Status: Updates every Sunday
Synopsis: Witness what the gods do…after dark. The friendships and the lies, the gossip and the wild parties, and of course, forbidden love. Because it turns out, the gods aren't so different from us after all, especially when it comes to their problems. Stylish and immersive, this is one of mythology's greatest stories — The Taking of Persephone — as it's never been told before.
➸ Heartstopper by Alice Oseman
Status: Updates on the 1st, 11th, and 21st
Synopsis: Charlie, a highly-strung, openly gay over-thinker, and Nick, a cheerful, soft-hearted rugby player, meet at a British all-boys grammar school. Friendship blooms quickly, but could there be something more…?
Les Normaux by Al and JJ
Status: Updates on Weekends
Synopsis: Les Normaux follows the lives of a bunch of supernatural beings living in Paris after a human wizard named Sebastien moved to the city.
➸ The Sea in You by jessisheron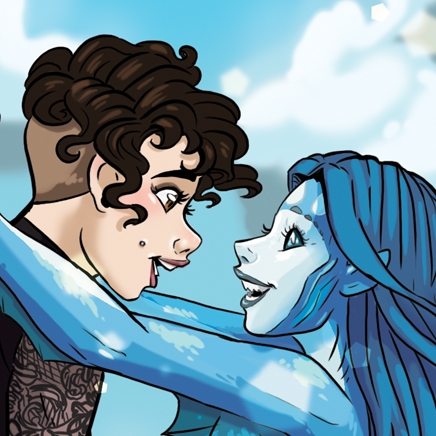 Status: Updates Mondays and Fridays
Synopsis: Corinth was just trying to clean up the beach, she never expected to meet a mermaid, let alone be nearly drowned by one. It was the start of a very strange friendship.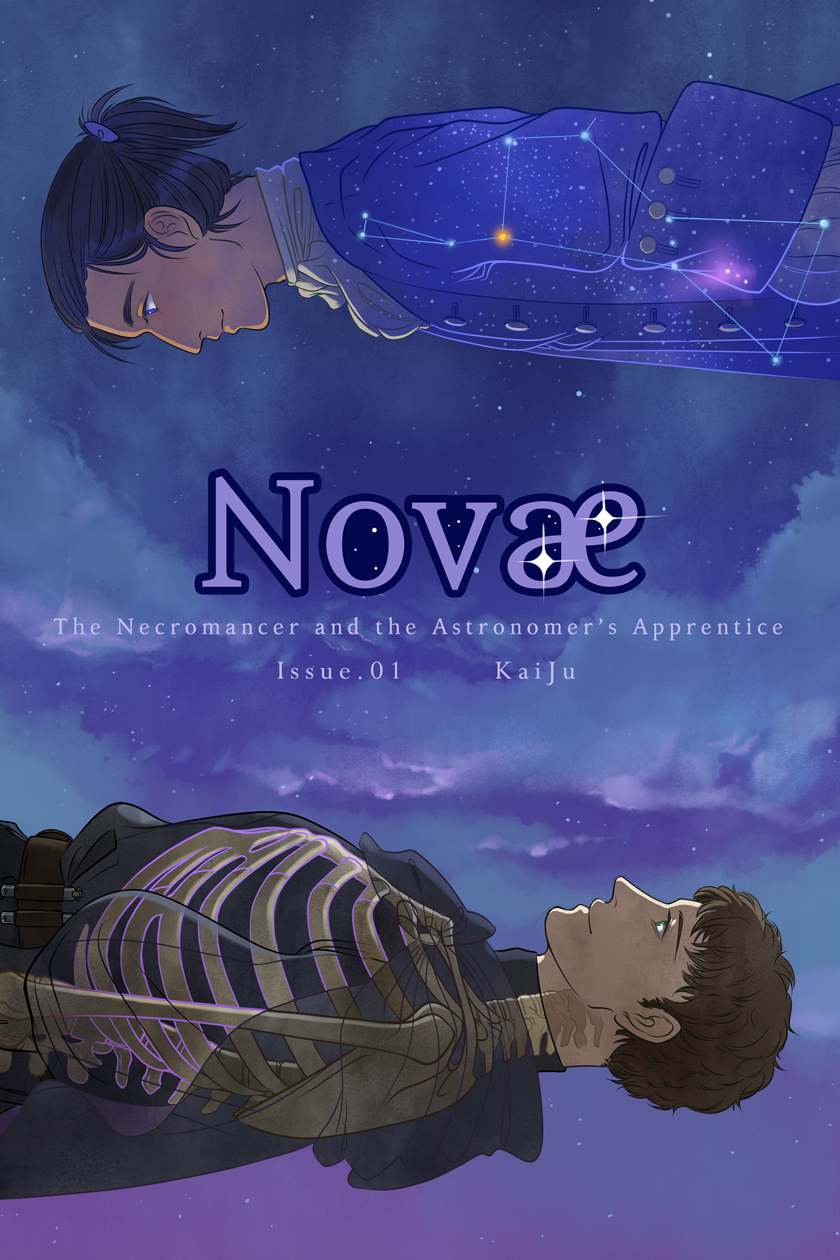 Status: Updates Mondays and Thursdays
Synopsis: Novae is a historical romance with a touch magic and a dash of astronomy. It chronicles the adventures of Sulvain, a sweet tempered necromancer and Raziol, a passionate 17th century astronomer. A connection forms between them and their relationship blooms, however when the body of a fellow astronomer is found on the steps of the Academy of Sciences, their lives are entangled in ways they could never foresee. A gentle romance full of drama and adventure with moments that both tear and heal the heart.
➸ Luff by Arechan
Status: Updates Tuesdays
Synopsis: Tired of dating apps that feel like they're in control of your love life? Then you better brace yourself for the not-too-distant future of LUFF, where a large worldwide conglomerate has created the ultimate romance-matchmaking-app. How powerful is LUFF? It just may determine every single aspect of your life.
➸ Small Word by Wonsun Jin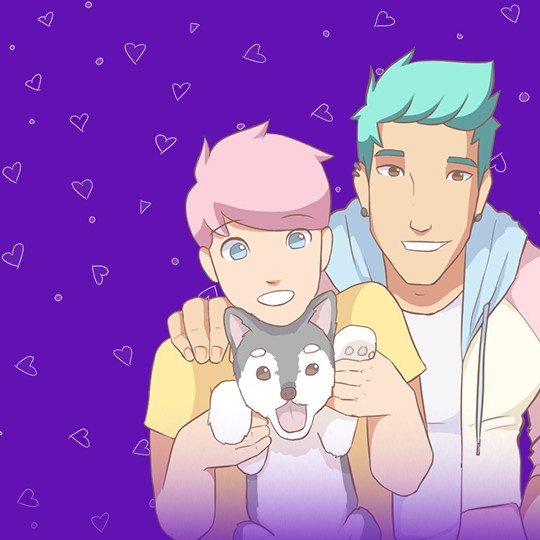 Status: Every Tue, Fri, Sun
Synopsis: What do you do when you're having a bad day? Need a hug? Or just a laugh? Call your boyfriend of course! Follow along with Robin and Julien as they navigate in their own small world.
➸ The Croaking by echorise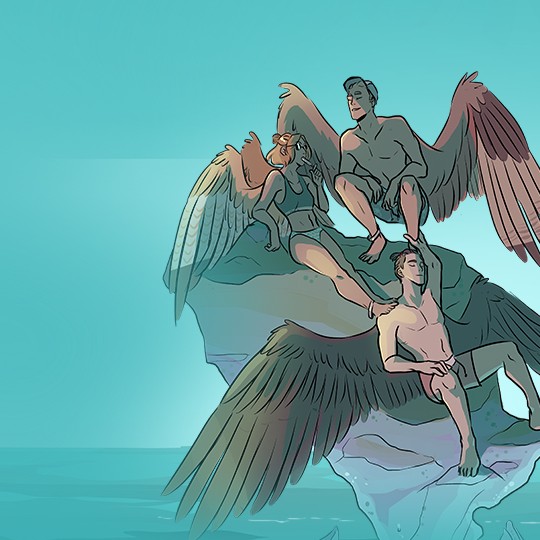 Status: Every Saturday
Synopsis: The Roost – the world's most prestigious military academy – has never accepted a Crow into its ranks. Until now. However, the conditions surrounding Scra's acceptance are shrouded in conspiracy, and his new roommate Ky won't rest until he finds out just where he goes every night. Between flight tests, classes, and Murders, Scra, Ky and Ree must band together to uncover the truth about their utopia and the whispers of a superweapon – "The Croaking" – that are seeping from the cracks.
Status: Completed
Synopsis: Eunki's always been an introvert, but he was never this jaded before. All the vivid excitement he felt as a freshman moving to the big city has faded into colorless lethargy years later. Now he mostly keeps to himself, only showing his face at the occasional meet-up. But at one such event, he runs into Jungwoo, a peppy young freshman who's keen to make a good impression. Little does Eunki know that this eager hoobae is about to sweep through his stale life like a breath of fresh air.
➸ Let's Play by Mongie
Status: Updates Every Wednesday
Synopsis: She's young, single and about to achieve her dream of creating incredible videogames. But then life throws her a one-two punch: a popular streamer gives her first game a scathing review. Even worse she finds out that same troublesome critic is now her new neighbor! A funny, sexy and all-too-real story about gaming, memes and social anxiety. Come for the plot, stay for the doggo.
➸ The Devil Is A Handsome Man by hellothisisangle
Status: Completed
Synopsis: Xolia makes the deal with the devil in order to obtain her desires. But she soon finds that this deal is shrouded in more mystery than she could have imagined.
➸ Go Get a Roomie by Chlove
Status: Updates Monday, Wednesday, and Friday
Synopsis: This webcomic follows the wild adventures of an upbeat hippie, living her life in love and joy. (And beer and sex.) You'll get to meet her various other friends, all as lovely and bonkers as she may be.
➸ Cherry Blossoms After Winter by bamwoo
Status: Season 1-3 Complete, S4 Just Begun
Synopsis: Ever since his parents passed away, Haebom has been living in Taesung's house. And now, being a 12th grader, he enters the same class as Taesung, which makes the whole situation way more awkward. Living together 24/7, Taesung and Haebom's relationship is bound to change.
➸ Devil Number 4 by jangjin / woombeee
Status: Updates Every Wednesday
Synopsis: When a down-on-her-luck student runs out of money – and hope – it's time for the devil to make his entrance and give her an offer she can't refuse. But this devil has problems of his own. He's a cog in Satan's corporate ladder, who's quickly losing credibility because that same desperate girl isn't ready to part with her soul willingly. Now, she's working at his coffee shop while he tries to convince her that she can have it all. And the cost? Merely her mortal soul…
➸ YU+ME: dream by Rosalarian
Status: Completed
Synopsis: A surreal love story, it is part high school romance, part journey/adventure story, and part surrealist thought experiment.
—
Aaand voilà! There are ample other recommendations on our Twitter page so don't forget to check that out as well! Hope this list was helpful, and I hope you guys join us on November 1 for Graphicathon!