Hi hello, friends!
Last week, I posted a list of the upcoming YA SFF offerings of 2021. As promised, this week, I'm back with the Adult SFF edition of that post!
Some of the most anticipated titles include: a queer Asian-American reimagining of The Great Gatsby, an epic Indian-influenced fantasy starring morally fraudulent lesbians, a sapphic North-Africa inspired fantasy about rebellion and espionage, a queer retelling of the founding of the Ming dynasty pitched as Mulan meets The Song of Achilles…. In other words, SO MUCH goodness heading our way next year!
So poke around—There are around 70 titles on this list, I hope you find a new favorite here!
N.B. Once again I have linked every book to its Goodreads page in case you want to know more, and also put a little rainbow flag emoji next to books with LGBTQ+ representation. Books are in order of publication date.
---
✴ The Ruthless Lady's Guide to Wizardry by C.M. Waggoner 🏳️‍🌈
Release date: January 12
"Hard-drinking petty thief Dellaria Wells is down on her luck in the city of Leiscourt—again. Then she sees a want ad for a female bodyguard, and she fast-talks her way into the high-paying job. Along with a team of other women, she's meant to protect a rich young lady from mysterious assassins." (there's a sapphic bodyguard romance, y'all!)
---
✴ Remote Control by Nnedi Okorafor
Release date: January 19
"The day Fatima ("the adopted daughter of death") forgot her name, Death paid a visit. From hereon in she would be known as Sankofa­­—a name that meant nothing to anyone but her, the only tie to her family and her past."
---
✴ The Mask of Mirrors (Rook & Rose #1) by M.A. Carrick, Marie Brennan 🏳️‍🌈
Release date: January 19
"Nadežra is a city of dark intrigue and glimmering magic. A place where szorsas can read your fate in the face of a pattern card, and creatures of shadow and claw can devour your nightmares. In Nadežra, a mask might hide the face of a beautiful con artist, a daring vigilante, a charming criminal…or someone far more sinister."
---
✴ Hall of Smoke by H. M. Long
Release date: January 19
"Epic fantasy featuring warrior priestesses, meddling gods at war, an atmospheric Viking-inspired world and LOTS of axes."
---
✴ The Forever Sea (The Forever Sea #1) by Joshua Phillip Johnson
Release date: January 19
"The first book in a new environmental epic fantasy series set in a world where ships kept afloat by magical hearthfires sail an endless grass sea."
---
✴ A Dowry of Blood by S.T. Gibson 🏳️‍🌈
Release date: January 31
This is a queer reimagining of Dracula's brides, ft. "sapphic yearning at the opera", bi rep, and tangled polyamorous relationships.
---
✴ Winter's Orbit by Everina Maxwell 🏳️‍🌈
Release date: February 2
Pitched as Ancillary Justice meets Red, White & Royal Blue, this is a queer romantic space opera set "in an unforgiving empire" in which "a scandal-prone prince and a dutiful scholar, who are forced into a political marriage, try to prevent an interplanetary war."
---
✴ On Fragile Waves by E. Lily Yu
Release date: February 2
"[An] exquisite and unusual magical realist novel, On Fragile Waves, is a heartbreaking and haunting story about one refugee family's quest for a new home in an unwelcoming world."
---
✴ A History of What Comes Next (A History of What Comes Next #1) by Sylvain Neuvel
Release date: February 2
"Showing that truth is stranger than fiction, Sylvain Neuvel's A History of What Comes Next weaves a sci-fi thriller that blends a fast moving, darkly satirical look at 1940s rocketry with the amorality of progress, and the nature of violence."
---
✴ Fireheart Tiger by Aliette de Bodard 🏳️‍🌈
Release date: February 9
This novella is pitched as The Goblin Emperor meets Howl's Moving Castle in a pre-colonial Vietnamese-esque world ft. queer love triangle and magical politics!
---
✴ The Velocity of Revolution by Marshall Ryan Maresca 🏳️‍🌈
Release date: February 9
According to the author, this is a "dieselpunk fantasy of motorcycles & mushroom magic, civil unrest & colonization, pansexual polycules, found families of resistance cells and delicious tacos."
---
✴ The Witch's Heart by Genevieve Gornichec 🏳️‍🌈
Release date: February 9
"When a banished witch falls in love with the legendary trickster Loki, she risks the wrath of the gods in this moving, subversive debut novel that reimagines Norse mythology." (I have been reliably told that the main ship is f/f!)
---
✴ The Echo Wife by Sarah Gailey
Release date: February 16
Pitched as "perfect for readers of Big Little Lies and enthusiasts of Killing Eve and Westworld­," the synopsis is a powerful hook:
"Martine is a genetically cloned replica made from Evelyn Caldwell's award-winning research. She's patient and gentle and obedient. She's everything Evelyn swore she'd never be.
And she's having an affair with Evelyn's husband.
Now, the cheating bastard is dead, and the Caldwell wives have a mess to clean up. Good thing Evelyn Caldwell is used to getting her hands dirty."
---
✴ Soulstar (The Kingston Cycle #3) by C.L. Polk 🏳️‍🌈
Release date: February 16
"With Soulstar, C. L. Polk concludes her riveting Kingston Cycle, a whirlwind of magic, politics, romance, and intrigue that began with the World Fantasy Award-winning Witchmark. Assassinations, deadly storms, and long-lost love haunt the pages of this thrilling final volume."
---
✴ Sun-Daughters, Sea-Daughters by Aimee Ogden 🏳️‍🌈
Release date: February 23
"One woman will travel to the stars and beyond to save her beloved in a lyrical space opera that reimagines The Little Mermaid."
---
✴ The Black Coast (The God-King Chronicles #1) by Mike Brooks
Release date: February 25
"The Black Coast is the start of an unmissable series filled with war-dragons, armoured knights, sea-faring raiders, dangerous magic and crowd-pleasing battle scenes."
---
✴ In the Quick by Kate Hope Day 🏳️‍🌈
Release date: March 2
"A young, ambitious female astronaut's life is upended by a fiery love affair that threatens the rescue of a lost crew in this brilliantly imagined novel in the tradition of Station Eleven and The Martian."
---
✴ A Desolation Called Peace (Teixcalaan #2) by Arkady Martine 🏳️‍🌈
Release date: March 2
My MOST anticipated release of 2021, A Desolation Called Peace is the sequel to A Memory Called Empire, the book of my heart. And according to the author, "a lot of it happens on a battleship. There's interstellar mail fraud. And a kitten. (Technically, several kittens). Also a maybe-genocide, some extremely unwise kissing, and the usual dose of political machination." Oh, and it's sapphic as hell!
---
✴ Klara and the Sun by Kazuo Ishiguro
Release date: March 2
"From the bestselling and Booker Prize winning author of Never Let me Go and The Remains of the Day, a stunning new novel – his first since winning the Nobel Prize in Literature – that asks, what does it mean to love? A thrilling feat of world-building, a novel of exquisite tenderness and impeccable restraint, Klara and the Sun is a magnificent achievement, and an international literary event."
---
✴ The Councillor by E.J. Beaton 🏳️‍🌈
Release date: March 2
"The Councillor follows the story of a palace scholar, Lysande, who becomes elevated to a leadership position. As Councillor, Lysande finds herself investigating the murder of her closest friend – the queen, Sarelin Brey – whilst choosing the next ruler from amongst the leaders of the cities. At the same time, an old enemy of the crown, the magic-wielding White Queen, is mounting a new attempt on the throne. Lysande has to put her intellectual skills to use in a new way, defending the realm and uncovering a traitor."
---
✴ The Conductors by Nicole Glover 🏳️‍🌈
Release date: March 2
"A compelling debut by a new voice in fantasy fiction, The Conductors features the magic and mystery of Jim Butcher's Dresden Files written with the sensibility and historical setting of Octavia Butler's Kindred: Introducing Hetty Rhodes, a magic-user and former conductor on the Underground Railroad who now solves crimes in post–Civil War Philadelphia."
---
✴ The Route of Ice and Salt by José Luis Zárate, Translated by David Bowles 🏳️‍🌈
Release date: March 2
"A reimagining of Dracula's voyage to England, filled with Gothic imagery and queer desire."
---
✴ The Bone Maker by Sarah Beth Durst
Release date: March 9
"A standalone epic fantasy set in a brand-new world of towering mountains and sparkling cities, in which a band of aging warriors have a second chance to defeat dark magic and avenge a haunting loss."
---
✴ The Second Bell by Gabriela Houston
Release date: March 9
"In a world which believes her to be a monster, a young striga fights to harness the power of her second heart, while her mother sacrifices everything to stop her."
---
✴ We Shall Sing a Song into the Deep by Andrew Kelly Stewart
Release date: March 9
"A Canticle for Leibowitz meets The Hunt for Red October in Andrew Kelly Stewart's debut novella We Shall Sing a Song Into the Deep, about a fundamentalist order of monks who control Earth's last nuclear submarine."
---
✴ Galactic Hellcats by Marie Vibbert 🏳️‍🌈
Release date: March 9
"Ki is a petty thief. Her best friend wills her his solo-flyer—call it a space motorcycle: temperamental, fast as hell, and expensive to maintain. Any reasonable person would sell it to get off the street, but Ki isn't reasonable. If the repo men, cops and three different galactic governments don't catch her, she'll use it to carve a place for herself among the stars."
---
✴ The Library of the Dead (Edinburgh Nights #1) by T.L. Huchu
Release date: March 18
"Sixth Sense meets Stranger Things in T. L. Huchu's The Library of the Dead, a sharp contemporary fantasy following a precocious and cynical teen as she explores the shadowy magical underside of modern Edinburgh."
---
✴ The Unbroken (Magic of the Lost #1) by C.L. Clark 🏳️‍🌈
Release date: March 23
A North-Africa inspired fantasy about "rebellion, espionage, and military might on the far outreaches of a crumbling desert empire" ft. a cranky princess and a cranky soldier.
---
✴ Peaces by Helen Oyeyemi 🏳️‍🌈
Release date: April 6
Peaces follows an m/m couple "who embark on a mysterious train that takes them far beyond any destination they could have anticipated," and it's about "what it means to be seen by another person–whether it's your lover or a stranger on a train–and what happens when things you thought were firmly in the past turn out to be right beside you."
---
✴ The Helm of Midnight (The Five Penalties #1) by Marina J. Lostetter
Release date: April 13
"In a daring and deadly heist, thieves have made away with an artifact of terrible power–the death mask of Louis Charbon. Made by a master craftsman, it is imbued with the spirit of a monster from history, a serial murderer who terrorized the city with a series of gruesome murders…"
---
✴ The Light of the Midnight Stars by Rena Rossner 🏳️‍🌈
Release date: April 13
"Set in the Hungarian woods, the story follows three Jewish sisters, descendants of King Solomon who are gifted with his skill for magic. When their community is destroyed by accusations of witchcraft, the family is forced to flee — but their powers may still be needed to fight the darkness spreading across the land."
---
✴ Sistersong by Lucy Hounsom
Release date: April 15
"Sistersong retells the folk ballad, 'The Two Sisters', through the eyes of one the tale forgot. It's a powerfully moving story, perfect for fans of Naomi Novik's Uprooted and Katherine Arden's The Bear And The Nightingale."
---
✴ The Last Watch (The Divide #1) by J.S. Dewes
Release date: April 20
"The Expanse meets Game of Thrones in J. S. Dewes' fast-paced, sf adventure The Last Watch, where a handful of soldiers stand between humanity and annihilation."
---
✴ Sorrowland by Rivers Solomon 🏳️‍🌈
Release date: May 4
"A genre-bending work of gothic fiction that wrestles with the tangled history of racism in America and the marginalization of society's undesirables, about a Black woman with albinism, the mother of infant twins, who is hunted after escaping a religious compound, then discovers that her body is metamorphosing and that she is developing extra-sensory powers."
---
✴ Firebreak by Nicole Kornher-Stace 🏳️‍🌈
Release date: May 4
This is a post-corporate-apocalypse sci-fi novel, ft. a central m/f platonic relationship.
---
✴ Project Hail Mary by Andy Weir
Release date: May 4
"A lone astronaut must save the earth from disaster," from the author of The Martian.
---
✴ The Shadow of the Gods (The Bloodsworn Saga #1) by John Gwynne
Release date: May 6
"The Witcher meets Vikings in this brand new Norse-inspired fantasy series from acclaimed British author John Gwynne, which will thrill his existing fans as well as being the perfect starting point for new readers."
---
✴ Black Water Sister by Zen Cho 🏳️‍🌈
Release date: May 11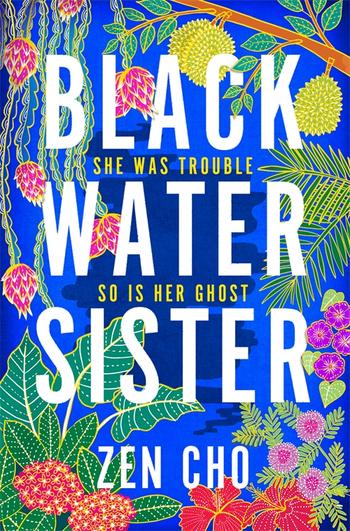 "A reluctant medium discovers the ties that bind can unleash a dangerous power in this compelling Malaysian-set contemporary fantasy."
---
✴ A Master of Djinn (Fatma el-Sha'arawi) by P. Djèlí Clark 🏳️‍🌈
Release date: May 11
Set in alternate Cairo, this sapphic story follows "agent Fatma [who] must unravel the mystery behind the imposter to restore peace to the city – or face the possibility he could be exactly who he seems…"
---
✴ Son of the Storm (The Nameless Republic #1) by Suyi Davies Okungbowa
Release date: May 11
"A young scholar's ambition threatens to reshape an empire determined to retain its might in this epic tale of violent conquest, buried histories, and forbidden magic."
---
✴ We Are Satellites by Sarah Pinsker
Release date: May 11
A novel "about one family and the technology that divides them" that "takes place in a near-future where virtual assistants are implanted directly into the brain."
---
✴ The Kingdoms by Natasha Pulley 🏳️‍🌈
Release date: May 25
"For fans of The 7 ½ Deaths of Evelyn Hardcastle and David Mitchell, a genre bending, time twisting alternative history that asks whether it's worth changing the past to save the future, even if it costs you everyone you've ever loved."
---
✴ Hard Reboot by Django Wexler 🏳️‍🌈
Release date: May 25
F/F sci-fi novella featuring "future politics mixed with giant mecha-battles."
---
✴ The Blacktongue Thief by Christopher Buehlman
Release date: May 27
"The Blacktongue Thief is the story of an indebted thief, a veteran knight, a witch-in-training, and a blind rescue cat who must journey together through a world still scarred from a brutal, decades-long war with goblins."
---
✴ The Chosen and the Beautiful by Nghi Vo 🏳️‍🌈
Release date: June 1
The Chosen and the Beautiful is a reimagining of The Great Gatsby as a queer Asian-American coming-of-age fantasy centering around Jordan as Daisy but she's a queer Asian-American magician immigrant!
---
✴ Future Feeling by Joss Lake 🏳️‍🌈
Release date: June 1
"An embittered dog walker obsessed with a social media influencer inadvertently puts a curse a young man—and must adventure into mysterious dimension in order to save him—in this wildly inventive, delightfully subversive, genre-nonconforming debut novel about illusion, magic, technology, kinship, and the emergent future."
✴ The Jasmine Throne (Burning Kingdoms #1) by Tasha Suri 🏳️‍🌈
Release date: June 8
"A new trilogy set in a world inspired by the history and epics of India, in which a captive princess and a maidservant in possession of forbidden magic become unlikely allies on a dark journey to save their empire from the princess's traitor brother." Or, to borrow some of the author's words, "an epic Indian-influenced fantasy novel about vengeful, morally grey lesbians who want to set an empire ablaze."
---
✴ Star Eater by Kerstin Hall 🏳️‍🌈
Release date: June 22
Pitched as Robin McKinley meets The Handmaid's Tale, the story follows "Elfreda Raughn—bureaucrat, priestess, and practitioner of cannibalistic magic—[who] must betray the Order in which she was raised so she can choose her own future."
---
✴ The All-Consuming World by Cassandra Khaw 🏳️‍🌈
Release date: June 22
"A diverse team of broken, diminished former criminals get back together to solve the mystery of their last, disastrous mission and to rescue a missing and much-changed comrade… but they're not the only ones in pursuit of the secret at the heart of the planet Dimmuborgir."
---
✴ Cinders of Yesterday by Jen Karner 🏳️‍🌈
Release date: June 29
Cover: Yet to be Revealed
This is an f/f fantasy in which "an emotionally damaged monster teams up with a mind-wiped medium to recover her magic and memories so they can put down a rogue necromancer intent on using both women for his own nefarious needs, and just maybe find love in the process."
---
✴ The Spare Man by Mary Robinette Kowal
Release date: July 13
Cover: Yet to be Revealed
"With all the glittering banter of 1930s noir, this novel takes class, privilege, and identity theft and wraps them inside a murder mystery. Tesla Crane, heiress to the Crane fortune, and Shalmanseer Steward, a retired private detective, are on their honeymoon cruise from Earth to Mars. When Shal is framed for murder, Tesla has to find the murderer before they try to silence her husband."
---
✴ A Psalm for the Wild-Built (Monk & Robot #1) by Becky Chambers
Release date: July 13
"The books focus on Sibling Dex, a tea monk, who travels the land meeting villagers and townspeople. They tell Dex their woes while Dex brews them tea, custom-blended to their individual needs and personalities. But when Dex meets Mosscap one day, their life is turned upside-down. Mosscap is a robot (and everyone knows that robots are a myth from the dim and distant past, and never actually existed), and it wants to know "What does humanity need?" Cue: the most delightful road trip you could wish for!"
---
✴ The Past Is Red by Catherynne M. Valente
Release date: July 20
"The enchanting, dark, funny, angry story of a girl who made two terrible mistakes: she told the truth and she dared to love the world."
---
✴ She Who Became the Sun by Shelley Parker-Chan 🏳️‍🌈
Release date: July 20
Pitched as Mulan meets The Song of Achilles, and described by the author as "revenge of the genderqueers", this is "a bold reimagining of the rise of the founding emperor of the Ming Dynasty that raises provocative questions about gender, fate, and individual power." But this is the tweet that lured me like a hook in my chest:
"When the beautiful, effortless, perfect prince tells you to kneel, to submit and show your loyalty, and you—broken, wretched, cruel you—go down on your knees in shame and anger and humiliation, and feel relief."
---
✴ Light Chaser by Peter F. Hamilton, Gareth L. Powell
Release date: August 24
"In Peter F. Hamilton and Gareth L. Powell's action-packed sci-fi adventure Light Chaser, a love powerful enough to transcend death can bring down an entire empire."
---
✴ In the Watchful City by S. Qiouyi Lu
Release date: August 31
"A lyrical, intimate novella set in a remote, fantastical city that uses a complex living network to watch over its inhabitants and visitors. Through the lens of four interconnected stories, one of the city's cloistered human overseers will see aer knowledge of aer world expand beyond the city's boundaries to places—and possibilities—ae has never before imagined to exist."
---
✴ No Gods, No Monsters by Cadwell Turnbull
Release date: September 7
"One October morning, Laina gets the news that her brother was shot and killed by Boston cops. But what looks like a case of police brutality soon reveals something much stranger. Monsters are real. And they want everyone to know it."
---
✴ The Actual Star: A Novel by Monica Byrne 🏳️‍🌈
Release date: September 14
Cover: Yet to be Revealed
A "multigenerational saga spanning two thousand years, from the collapse of the ancient Maya to a far-future utopia on the brink of civil war."
---
✴ Under the Whispering Door by T.J. Klune 🏳️‍🌈
Release date: September 21
This is an m/m fantasy about "a ghost who refuses to cross over and the ferryman he falls in love with."
---
✴ Jade Legacy (The Green Bone Saga #3) by Fonda Lee
Release date: September 21
"The clan must discern allies from enemies, set aside aside bloody rivalries, and make terrible sacrifices… but even the unbreakable bonds of blood and loyalty may not be enough to ensure the survival of the Green Bone clans and the nation they are sworn to protect." I'm so excited for this finale. If you haven't yet picked up Jade City, you absolutely should!
---
✴ Summer Sons by Lee Mandelo 🏳️‍🌈
Release date: September 28
"A simmering queer southern gothic about lost friends and fast cars."
---
✴ The Death of Jane Lawrence by Caitlin Starling
Release date: October 19
"Pitched as a Crimson Peak-inspired gothic horror about a young woman who makes a marriage of convenience and soon finds herself trapped in her new husband's decrepit and possibly haunted mansion, and spirals down a dangerous path of ritual magic in an effort to save them both."
---
✴ A Marvellous Light by Freya Marske 🏳️‍🌈
Release date: November 9
"A historical fantasy in the tradition of Jonathan Strange & Mr Norrell and Witchmark, debut author Freya Marske's A Marvellous Light unfolds in an Edwardian England full of magic, contracts, and conspiracies." And according to the author, "it also contains some object lessons in why you don't mess with swans or steely-eyed old ladies. And rather a lot of sex."
---
✴ The Bone Shard Emperor (The Drowning Empire #2) by Andrea Stewart 🏳️‍🌈
Release date: Unannounced
Cover: Yet to be Revealed
This is the sequel to The Bone Shard Daughter, a winning Asian-inspired fantasy with bone-shard magic and hugely compelling characters that you'll hugely root for, and a must-read before the publication of this sequel!
---
✴ Go Marching In by Tamsyn Muir 🏳️‍🌈
Release date: Unannounced
Cover: Yet to be Revealed
"A novella trilogy featuring a retired lesbian gunslinger in a cyberpunk world under the sea."
---
✴ Skyward Inn by Aliya Whiteley
Release date: Unannounced
"This is a place where we can be alone, together.
The Western Protectorate does not welcome visitors.
When humans first went through the 'Kissing Gate' to the planet Qita, the protectorate turned its back on modern civilization to live in rural isolation.
Now the war on Qita is over, for veteran Jem and her Qitan partner Isley, it's a peaceful place to escape ugly memories.
But their peace is disturbed when a visitor comes to Skyward Inn, bringing reminders of an unnerving past and triggering an uncertain future."
---
✴ Light from Uncommon Stars by Ryka Aoki 🏳️‍🌈
Release date: Unannounced
Cover: Yet to be Revealed
"…about three women trying to escape their pasts — a Hell-damned violin legend and teacher, a young transgender runaway and aspiring musician, and a spaceship captain fleeing a faraway war — who find each other, and unexpected magic."
---
✴ Flowers for the Sea by Zin. E. Rocklyn
Release date: Unannounced
Cover: Yet to be Revealed
"Survivors from a flooded kingdom struggle alone on an ark. Resources are scant, and ravenous sea beasts circle. Among the refugees is Iraxi: a commoner who refused a prince, she's pregnant with a child that might be more creature than human. Her fate may be darker and more powerful than she can imagine."
Pitched as Kai Ashante Wilson's The Sorcerer of the Wildeeps meets Rivers Solomon's The Deep.
---
✴ The Bone Way by Holly J. Underhill 🏳️‍🌈
Release date: Unannounced
Cover: Yet to be Revealed
"When her wife Cressidae goes missing, Teagan immediately knows where she has gone. A kingdom of the dead filled with untold nightmares, the Shadow Realm is the only place that can save Teagan from a lethal poison that's killing her slowly. It is ruled by a princess said to make powerful deals with those brave enough to find her, and Cressidae has gone to bargain for Teagan's life. Cressidae has forgotten one very important thing: no one makes it out on their own." A SAPPHIC Orpheus and Eurydice retelling?!
---
✴ Prescribed Burn by Arkady Martine
Release date: Unannounced
Cover: Yet to be Revealed
A cyberpunk thriller climate-fiction procedural set in a future Los Angeles after the United States has fallen about "an arson investigator in a future LA torn apart by drought and wildfire who must uncover the secrets of the charred corpse of a water broker found at the site of her latest fire."
---
✴ Losing Gravity by Kameron Hurley
Release date: Unannounced
Cover: Yet to be Revealed
"New SF thriller pitched as Killing Eve Meets Die Hard (in space!)"
---
Aaaand fin! If I missed one of your anticipated Adult SFF releases of next year, let me know and I'll add it! Hope you enjoyed this list, and make sure to keep an eye out for next week's post about YA Contemporary releases of 2021!
---
If you liked this post please consider supporting me on Ko-fi!
---